Compass - Obalne Galerije Piran, Slovenia, 7-30 September 2007Gallery @ Minorite Friary of St.Francis of Assisi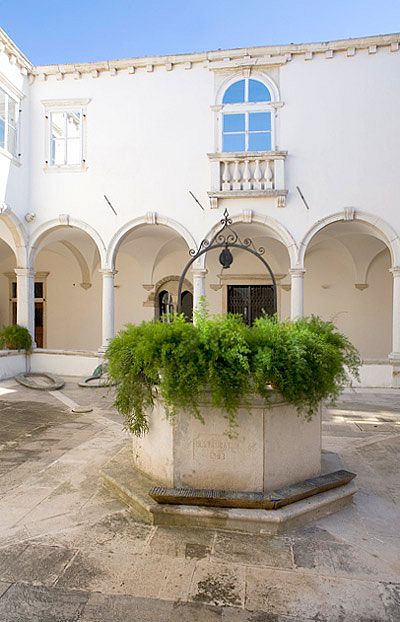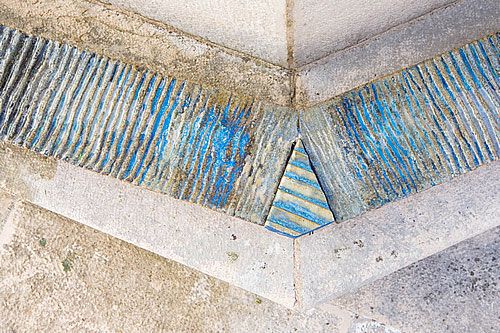 Compass Needle,
2005-2007
Material: glazed stoneware, gold luster
Size: 180 x 17 x 10 cm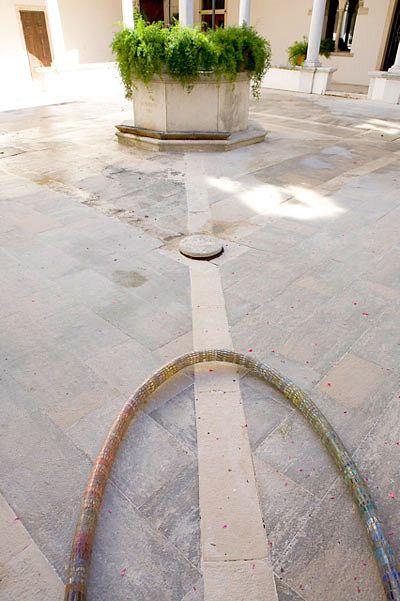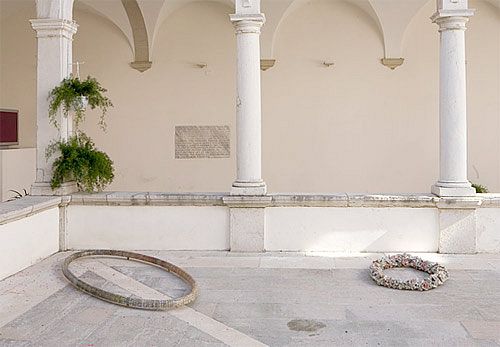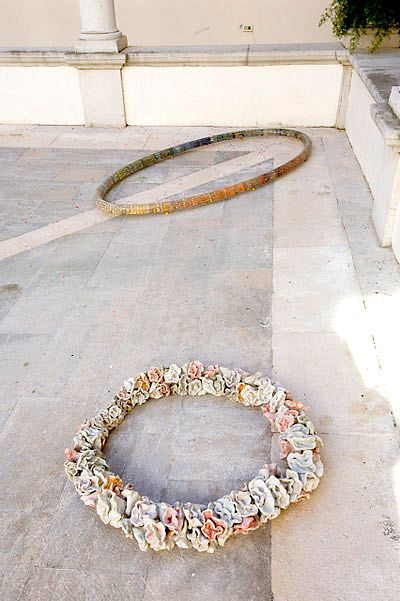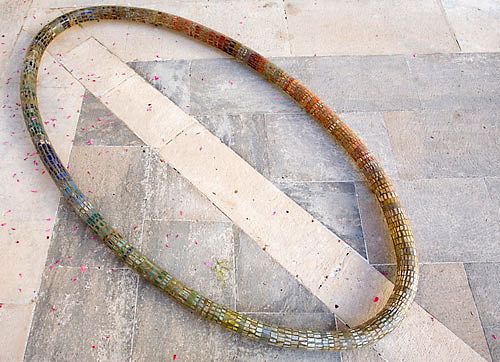 Ring,
2005
Material: ceramic mosaic cast in GRC
Size: 100 x 80 x 7cm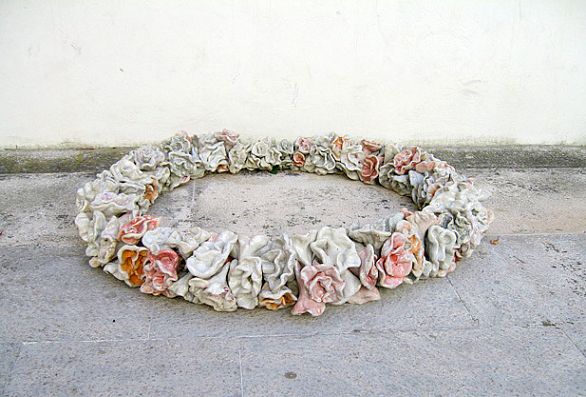 Flower Offering
, 2007
Material: Glazed stoneware
Size: variable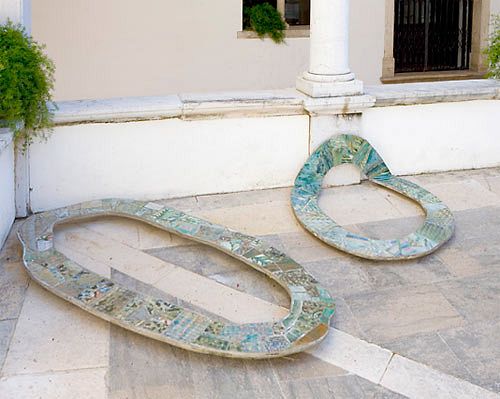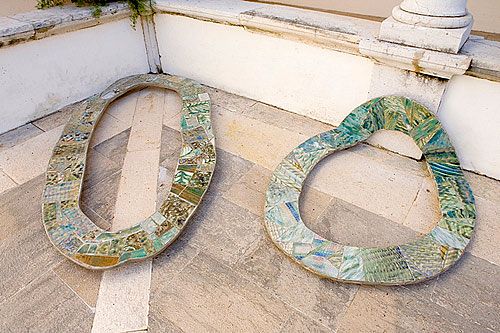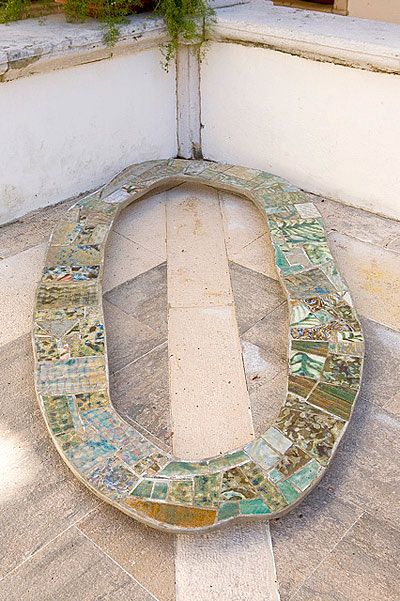 Rosary
, 2007
Material: Ceramics cast in GRC
Size: 100 x 200 x 10cm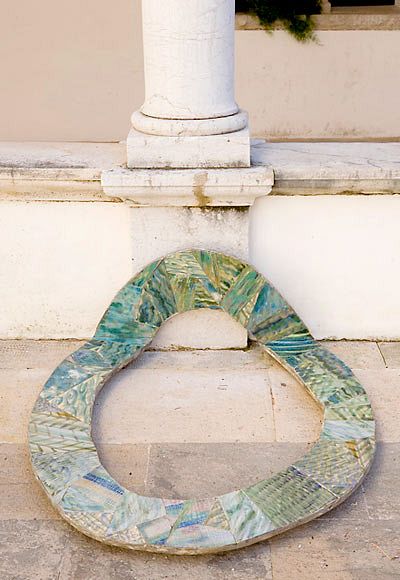 Necklace
, 2007
Assemblage of hand-made ceramic tiles, cast in GRC
Size: 100 x 90 x 40cm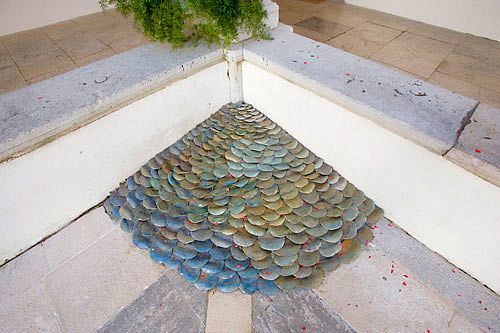 Pieces From The Sea
, 2007
Material: glazed stoneware, 250 pieces
Size: variable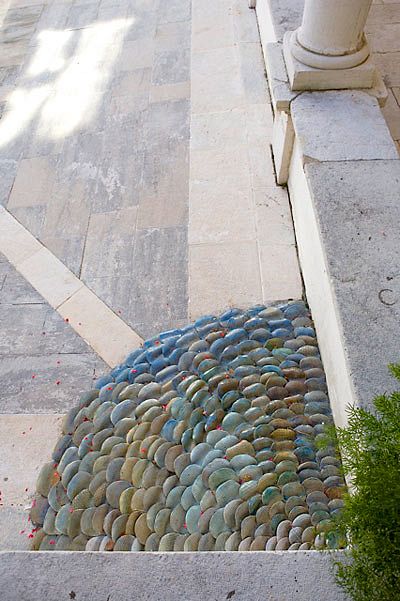 Pieces From The Sea
, 2007
Material: glazed stoneware, 250 pieces
Size: variable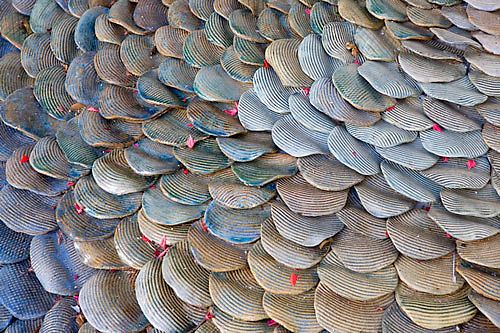 Pieces From The Sea
, 2007 (Detail)
Material: glazed stoneware, 250 pieces
Size: variable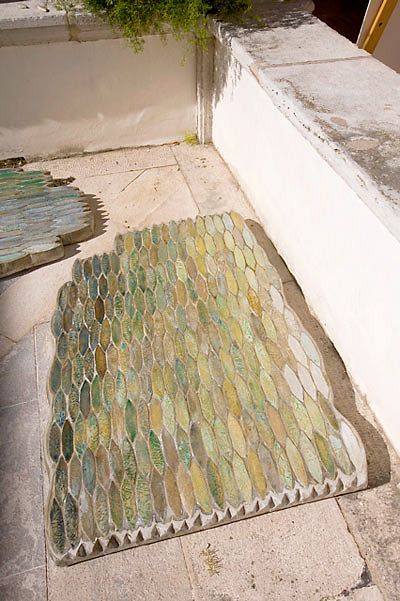 Old City
, 2007
Set of Two pieces, about 120 x 100 x 8 cm
Material: glazed stoneware cast in GRC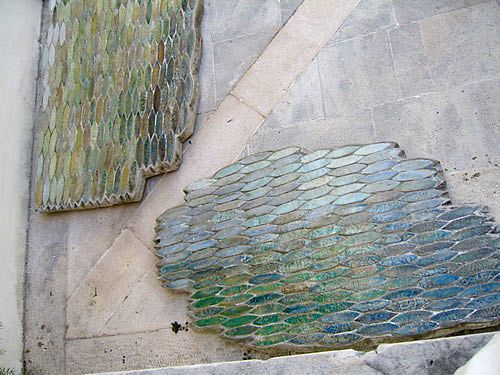 Old City
, 2007
Set of Two pieces, about 120 x 100 x 8 cm
Material: glazed stoneware cast in GRC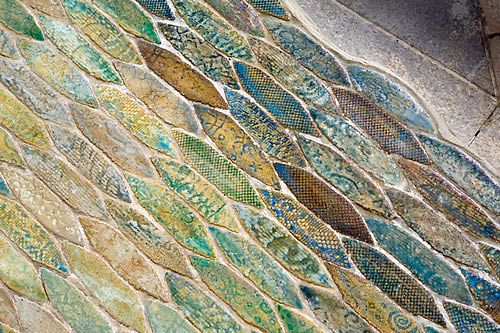 Old City
, 2007
Set of Two pieces, about 120 x 100 x 8 cm
Material: glazed stoneware cast in GRC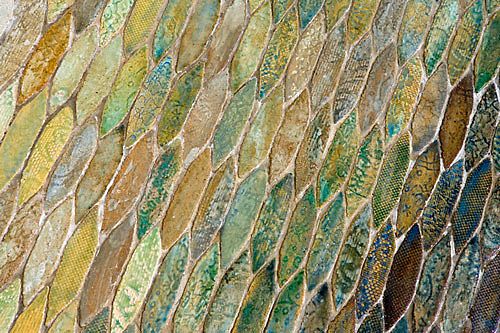 Old City
, 2007
Set of Two pieces, about 120 x 100 x 8 cm
Material: glazed stoneware cast in GRC
Delia Prvacki - Shaper of Landscape; Explorer of Nature
By Karen Lim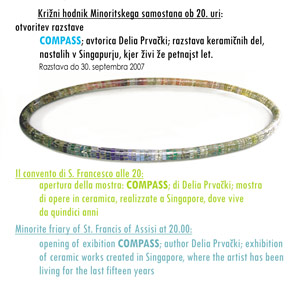 Pleinair is Delia Prvacki's latest series of outdoor sculptures installed at the parks in Singapore; as an ideal museum without walls, which bears the mark of social memories.
Incorporating nature has often been an important and constant element in Delia's work, resulting from her origin in Romania. She started thinking and expressing herself as an artist in a period of strict censorship, intense pressure and within the frame of a totalitarian regime. She moved to Yugoslavia when she was 25 years of age and her interest in history, ethnology and archaeology all form Delia's collective awareness with the social and spiritual environment.
The intervention works by Delia on the parks are like a theatrical aspect; presenting images and video documentation of Pleinair allow one to appreciate the essence of the works among the movements of the audience as 'actors'. The recordings of special moments define our perception. Naturally the entirety of the real experience is missing: the experiencing of the space, sound, the relatedness of the actions and especially the involvement of the public, since images do not make us participants. Nevertheless, these photographs convey an image in which everything comes together as a well-intended production and an opportunity of a different encounter.
Compass is Delia's latest site-specific work developed and inspired by the history and architecture of the exhibition venue - the Minorite Church of St. Francis in Piran. The placement of Delia's sculptures speaks of her sensitivity and reverence for the St. Francis cloister, a centre for spiritual and cultural events. Instead of the outdoors, Delia is challenged to a semi-enclosed space of the cloister, a ritual site designated for quiet meditation and study. Keeping its context in mind, like an alchemist, Delia transforms base metals and earth into a universal form of experiencing spirituality.
Compass is a series of several sculptures reflecting a combination between painting, ceramics and sculpture. Delia has always followed her dictates of her own aesthetic interests. The beauty of patina inspires the artist's awareness on mortality and how environments are affected by the elements. The work presents a parallel between patina and colours. It is in tandem between which is made by nature and that which is made by man. Her experimentation with glazes to look like patina and gold addresses an important yet illusive concept that explains the notion of beauty. It denotes simplicity and quietude and incorporates rustic beauty, such as patterns found in clay, stone or on ancient artifacts.
Delia sees beauty in deterioration and in archaeological findings of crumbling facades and lost items. Compass invites audience to appreciate beauty within the ordinary form on a journey through light and texture. Colour plays a pivotal role in the series: expressing either national or individual character or embodying the essence of the place and time. Likewise, her use of mosaic technique is appropriate for the site. Derived from the Byzantine tradition, it has its roots based from cultural and spiritual significance in religious buildings used across the ancient world. A very tedious hands-on approach with attention to minute details ensuring that the sculptural tactility of each form is intact. What unfolds before us is an obsession with light and the playfulness of colour found. The glowing myriad of pale-coloured pieces, like fabric, opaque and translucent matte or polished, invite touch. The vivid spectrum of reflective colours seen on Old City 1 and Old City 2 evoke excitement of lost treasures - the history, memory and the artifacts from a different city and time. The elongated hexagonal shaped mosaic tiles are placed on glass reinforced concrete. Natural light provides the colour density and the beauty of the reflective quality from the varied glazes used and the audience is wrapped in an atmosphere of cool tranquility. The travels Delia embarked often inspires the production of forms and colours.
The artist's love for textiles and transforming a few of her own works into tapestries shows a consistency in her interest on interlay and the technique of weaving. At the same time, Pieces from the Sea brings to mind of organisms multiplying on the seabed and even resembles fish scales. Each ceramic piece is mobile akin to a personal growth in her life reflecting on the synergy between nature and the environment. The personal act of repetition in making the tiles, the individual forms and the glazes bring about artistic ritual that performs the objects. The artist's internal ritual is extended to a public ritual.
The visual experience from the other two works, Necklace and Rosary, are representative objects used for prayers. The works raise important questions on the perception of beauty, the cognitive roles of sense and imagination helped open philosophical ground. Delia's understanding of lateral and vertical planes is now seamless as Necklace morphed from the ground to the wall. The artist's style of working demonstrates an enthusiasm that goes beyond material; spatial awareness, movement, atmosphere created by colour, light, tactile texture, the use of icons and symbolism, which raise personal questions.
The liminality of the space and its experience parallels the affinities of the art experience. The cloister allows audience to step back from practical concerns and social relations of everyday life and look at themselves and their world with a fresh perspective. The work is carefully structured that helps bind a community into a civic body by providing it a universal base of knowledge and validating its highest values and most cherished memories of the locus, preserving the community's historical and cultural memory. As the show travels, there will be a greater impact of cultural awareness of the culture the works come from, a circulation of values and dialogue of ideas. The contemplation of beauty, calls forth the intense desires of the soul. Aesthetics of art can be understood as transference of spiritual values from the scared realm into a secular time and space. For this reason, the visual memories of Delia's past works and the experience and interaction of her new work, Compass, act as powerful testimonials of the common humanity nurturing our landscape. Through complex dilemmas, traversing nature becomes a spatial experience that unfolds within oneself.
Karen Lim is an independent curator. She is currently working with artists and architects on integrated public art projects in subway stations in Singapore.